Gerald P. Vanderstyne, Sr.
Reflections on Our Founder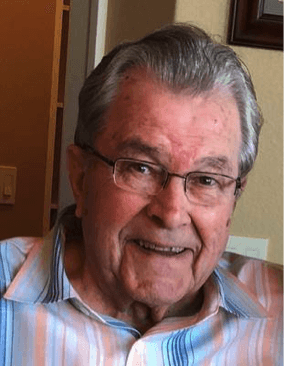 Gerald P. Vanderstyne, Sr. (1929-2019)
Remembering Gerald P. Vanderstyne, Sr.
We are deeply saddened to announce that our founder Gerald "Jerry" P. Vanderstyne Sr. passed away peacefully surrounded by his loving wife and family on Friday, June 7, 2019, just shy of turning 90 years old. Our thoughts and prayers are with the Vanderstyne family and to all who were touched by Jerry's extraordinary life and accomplishments. We'd like to share some fond memories with you that document Jerry's life.
A leader in the local automotive industry, Gerald Vanderstyne was born June 14, 1929, in Ontario, N.Y. Jerry graduated high school at the age of 17. He was too young to join the military service, which he desired to do, so he took his first job with Hickok Belt. There, he worked a few different jobs, including as a tanner, until he was able to join the Air Force at 18 years of age.
Jerry was initially stationed in Fairbanks Alaska where he was a Morse code operator for land-to-sea and land-to-air operations. He ascended to the rank of Sargent before being honorably discharged. Upon discharge, he came home to begin work as a pipe fitter and was a member of the local Pipefitters Union. There, he met the Able family. Mr. Art Able quickly introduced Jerry to his only daughter, Norma, who had six brothers all working alongside Jerry. Jerry was later married to Norma.
In 1959, Jerry left the pipefitters and took a job selling cars for Koerner Ford located in Fairport. Having immediate success, he was asked to become the Used Car Manager at their store in Syracuse, N.Y., only after 6 months of being employed at Koerner. Jerry worked for the organization for several years and was promoted as New Car Manager and eventually to General Manager.
In 1965-66, Chrysler was expanding their dealerships and offered Jerry the opportunity to own his own dealership in Buffalo. Jerry opened Transitowne Dodge located on Transit Road in mid-1966.
Late in 1966, Ford Motor Company contacted Jerry and offered him an opportunity to buy the Ford Dealership that was located on West Main Street, which was being relocated to West Ridge Road in Greece. With his heart belonging to Ford, and Norma and Jerry's family and friends being in Rochester, they felt this was a perfect opportunity to get back home to Rochester!
In August of 1967, Jerry opened Vanderstyne Ford. Over the years, he owned and operated Greece Dodge City, which he bought and re-named Transitowne Dodge of Greece, and Avon Ford, which he gave his two general managers the opportunity to be a partner in and who eventually bought Jerry out of the business.
In 1982, Jerry's son, Jay Vanderstyne, graduated from college, and came to work in the family business, Jay worked in most facets of the business including new and used vehicle sales, and parts and service departments. In 1990, Jay became partners with Jerry and was named the Vice President. Jay oversaw the operations of the business. Jerry then semi-retired to become a snowbird and spent several months out of the year in sunny Florida.
In September of 1992, Mount Read Toyota-Volkswagen was acquired by Jerry and Jay. Jay built a new facility for the Toyota store and moved it from Mt. Read Blvd in January 1994.
In 1998, Ford Motor company and Auto Nation teamed up and created a group called the Auto Collections that bought five markets across the United States with Rochester N.Y. being one of them. At that time, The Auto Collection bought eight Ford dealerships and three Lincoln Mercury dealerships in the Rochester area. Jay was able to negotiate keeping Vanderstyne Toyota and the ability to carve out the Toyota store in a non-compete with The Auto Collections. In December of 1998, Jerry fully retired to spend six-plus months out of the year in Florida and the summers on either Keuka or Canandaigua Lakes.
Jerry left a profound impact on so many and will be missed sorely, but never forgotten. He is survived by his loving wife Norma of 65 years, daughters Judy (Colling) and Jackie (Mead) and son Jay, eight grandchildren and seven great-grandchildren.